Tractive distributes the largest range of Adventure shocks and closed cartridges for most extreme applications worldwide. Dedicated tuning markets are also being served, for instance the KTM690, Husqvarna 701 and Honda CB500X
Shock Absorbers


The shock absorbers are based on
46mm high flow pistons
Cold forged and machined 6082 T6 46mm aluminum shock body for high-strength and maximum heat dissipation.
Stainless steel bushes instead of alu: more durable especially for heavy bikes.
Low-friction seal with integrated Teflon back-up ring maximizes performance and extends the life of the shock
Oversized 16mm high-strength shaft made of chrome-moly steel for maximum strength and durability.
Dampening set up for fully-loaded bike right out-of-the-box, developed by and for demanding touring and adventure customers
Hoses with 100% larger cross section ensure that there is no undesired limitation to the oil flow at high damper speeds. Hoses are swiveling for ease of mounting. Tractive hoses are sealed with O-rings for improved reliability.
Fully serviceable
Tuneable by the suspension expert for ride height or damping
Functions: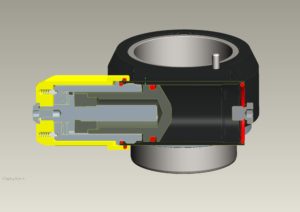 Manual preload adjustment to achieve the required preload for the luggage and / or passenger. OR
Hydraulic preload adjuster travel 15 mm instead of stock mostly 8 mm, for ride height adjustment or compensation for heavy loads or passenger. Extreme reliability. 50% more adjustment range than other aftermarket products.
Whereever possible, a floating piston separates the nitrogen and the oil to prevent oil foaming to ensure consistent performance even in punishing environments
Available in a range of spring rates to match the rider's weight requirements.
One-piece forged high-strength aluminum reservoir / canister, keeps the oil cool, takes care of longer lasting nitrogen pressure and increases lifetime of the shock.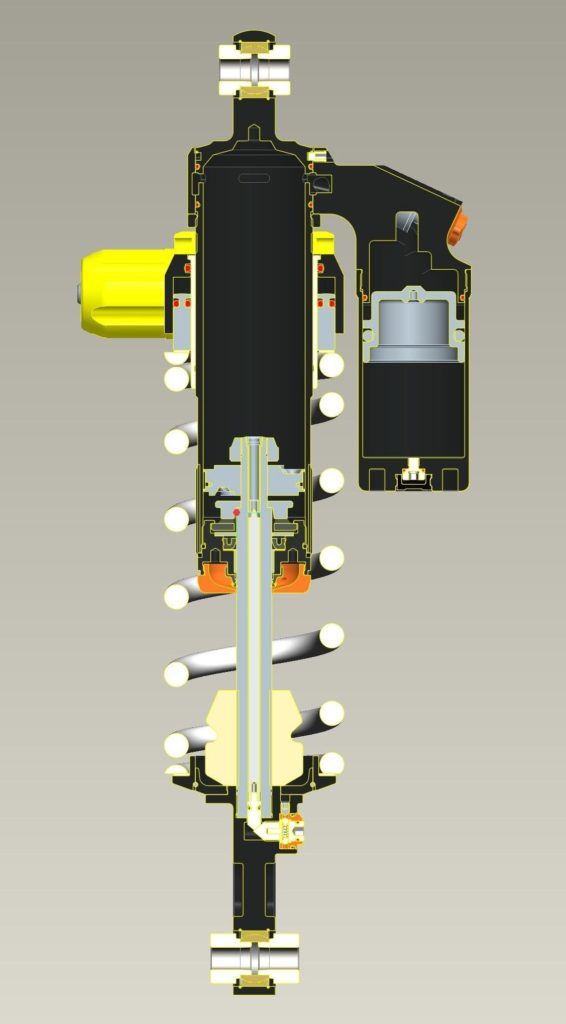 Adjustable high-speed and low-speed compression dampening allows absolute control in varying track conditions.

Optional Bottoming control with secondary compression dampening technology , (PDS2) Position-dependent Dampening System.
Optional Adjustable shock length, allows 8mm (-4mm to +4mm) of length adjustment to fine tune the balance/height of your bike. The M20 thread diameter ensures reliability.
Application list
All touring and adventure motorcycles of BMW, KTM, Triumph, Honda, … Please ask for more information
Closed cartridge
The Closed Cartridge was designed specifically for touring and riding under frequent and widely varying load and riding conditions as well as the most extreme demands, and is in the absolute première league class of suspension technology for front forks.
Features and functions:
The closed cartridge is installed into the original fork. In this way, the fork bridge/handlebar mount, brakes, wheel control and steering geometry are fully retained. No additional modifications to the fork are required.
All adjustments from Top-side:

fully adjustable spring preload in both fork legs for optimum balance of the bike. 20 mm over 12 clicks
Separately adjustable rebound damping 20 clicks (1 fork leg)
Compression damping 20 clicks (1 fork leg)

A "hydraulic end stop" is installed in each cartridge to prevent bottoming out.
The closed cartridge functions like a shock absorber in the fork which, due to the finely adjustable damping, allows effective, precise suspension settings to match your personal riding style at all times, for every road condition and purpose.
35mm high flow double-digressive piston, largest piston on the market.
Fully serviceable
Tuneable by the suspension expert for ride height or damping
Available in a range of spring rates to match the rider's weight requirements.
The product comes with installation manual, installation tool, adjustment tool and an oil canister.
Application list
KTM1050 ADV15-KTM950 Adv S04-05KTM990 Adv R06-13TRIUMPHTIGER 800XC A0811-TRIUMPHTiger Explorer V13VG12-YAMAHAXTZ 1200 Tenere12-
| | | |
| --- | --- | --- |
| BMW | F800GS | 08-12 |
| BMW | F800GS | 13- |
| BMW | F800GS Adv. | 14- |
| BMW | S1000R | 14- |
| BMW | S1000XR | 15- |
| BMW | R-Nine-T | 14- |
| BMW | R1200 RS | 15- |
| BMW | R1200 R | 15- |
| Honda | CRF1000L Africa Twin | 16- |
| KTM | 1190 R ADV A2 / B2 | 14- |
Electronic adjustable shock absorbers and cartridges
More and more motorcycles come on the market with electronic adjustable suspension. Certainly in the Touring and Adventure segment. This is not the end of aftermarket suspension. On the contrary, these electronic suspensions do offer more adjustability but are still a compromise between function and costprice. They are still being developed for the average customer with the average weight and average height and average track. Based on the same components and on state-of-the-Art technologies, Tractive has developed a range of Plug & Play shocks and cartridges for ESAI, ESAII and dynamic ESA.
Application list
See Tractive BMW ESA products for full listing. Specifically for Adventure use there are full Adventure-proof shocks for:
| | | |
| --- | --- | --- |
| BMW | F800GS | 13- |
| BMW | R1200GS | 04-12 |
| BMW | R1200GS | 13- |
| BMW | R1200GS Adv | 06-13 |
| BMW | R1200GS Adv | 14- |