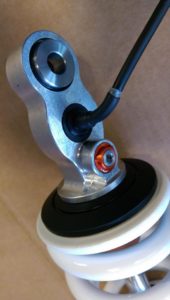 TracTive Suspension started 1st of June 2010 after WP Suspension moved from The Netherlands to Austria. The ex-WP core development team used this opportunity to start TracTive Suspension. Immediately the staff realised that the future in suspension is in electronically adjustable suspensions, not in marginally optimizing already fine-tuned suspension.
TracTive develops technologies with electronical control of damping and ride height. The millisecond fast, patented damping adjustment valve (DDA Dynamic Damping Adjustment), which allows for active body control, is one of the many existing examples. Based on this electronic knowhow, the Tractive R&D department started doing prototyping & development work for OEM customers like BMW (DE), Touratech (DE), Aragosta/Topline (JP), BRP Lynx / Totaltek (Fi), BRP (CA), Koni (Netherlands), Tenneco (Belgium), VB-Air (Netherlands), VRM (Italy), … Many customers appreciate our experience, technology knowhow, flexibility and independent position.
TracTive has in one hand everything that is needed for electronic suspension prototypes: experienced staff, shock absorber components, control units, sensor, actuators and algorithms.
The combination of technology knowhow and our small till medium size scale production makes TracTive an attractive proposition for development projects. When a vehicle manufacturer is looking for ways to modernise or "electrify" his suspension, he will find TracTive as an independent consulting partner or Proof-Of-Concept supplier. TracTive works on projects from concept phase till release for production, including supplier selection, pre-production series, engineering and ride-work.